Peppermaster Craps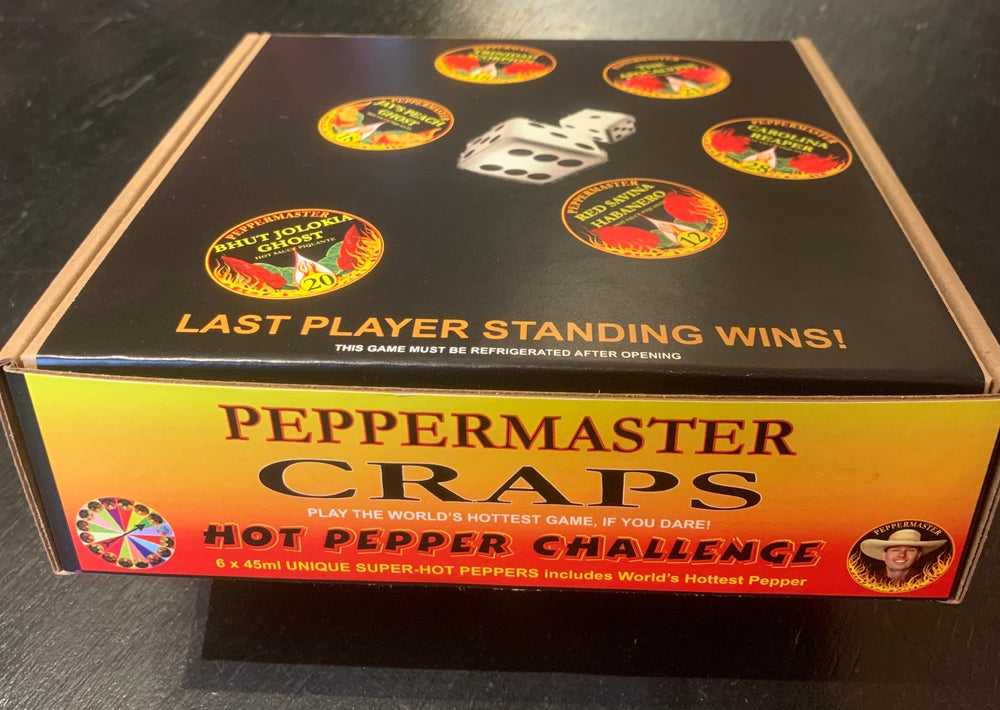 We listen to you. We are quick to respond. So, ask and sometimes ye shall receive. I understand that $185 is a serious chunk of coin EVEN for such a unique gift as the game of
Peppermaster Roulette
. These 15 unique premium
Peppermaster Chilli Pepper Mashes
come at a serious savings over individual pricing, and the game is pretty cool, too. So, I introduce to you a less expensive game you can gamble on. It too, will cause pain, education, and fun; This game holds six of our Peppermaster Chilli Pepper Mashes and one die.
Peppermaster Craps for $100
; Roll the die. Taste the pepper. Take turns. Last player standing wins. Less expensive still, check out our
Hottest Threesome Firecracker at $65
, or you can go straight to
the World's Hottest Pepper and get the Carolina Reaper for $30
. You talk we listen, we respect your voice. ALWAYS DEALS "Buy three, the fourth is free. The least expensive of the four is the free one and you can mix bottles and gift packs. So, you can get on top of your corporate gift giving with us as well. Also, we recommend you open a
Peppermaster Chilihead account on our website
so we can offer you all the benefits our most ardent supporters deserve!