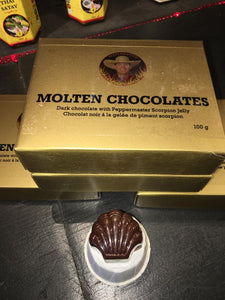 Experience the magic of my Peppermaster Original Molten Chocolates.
When two islands collide!! I am so proud of these, and super happy with the quality delivered by Brent, Candice et al at The Newfoundland Chocolate Company.
These delicacies are soooo good. Melt in your mouth smooth, they express The balance between the chocolate, the fruitée, and the sting of the Scorpion! The Pepper Jelly centers are so hot, but perfectly balanced with the chocolate chosen for this batch.
Heat level: 12
We highly encourage you to order these for pick up from the shop, as we cannot guarantee optimum conditions will be respected during delivery transport.
These confections are taxable items.