The Pepperfire Twitter Isolation Decorated Focaccia Bread Challenge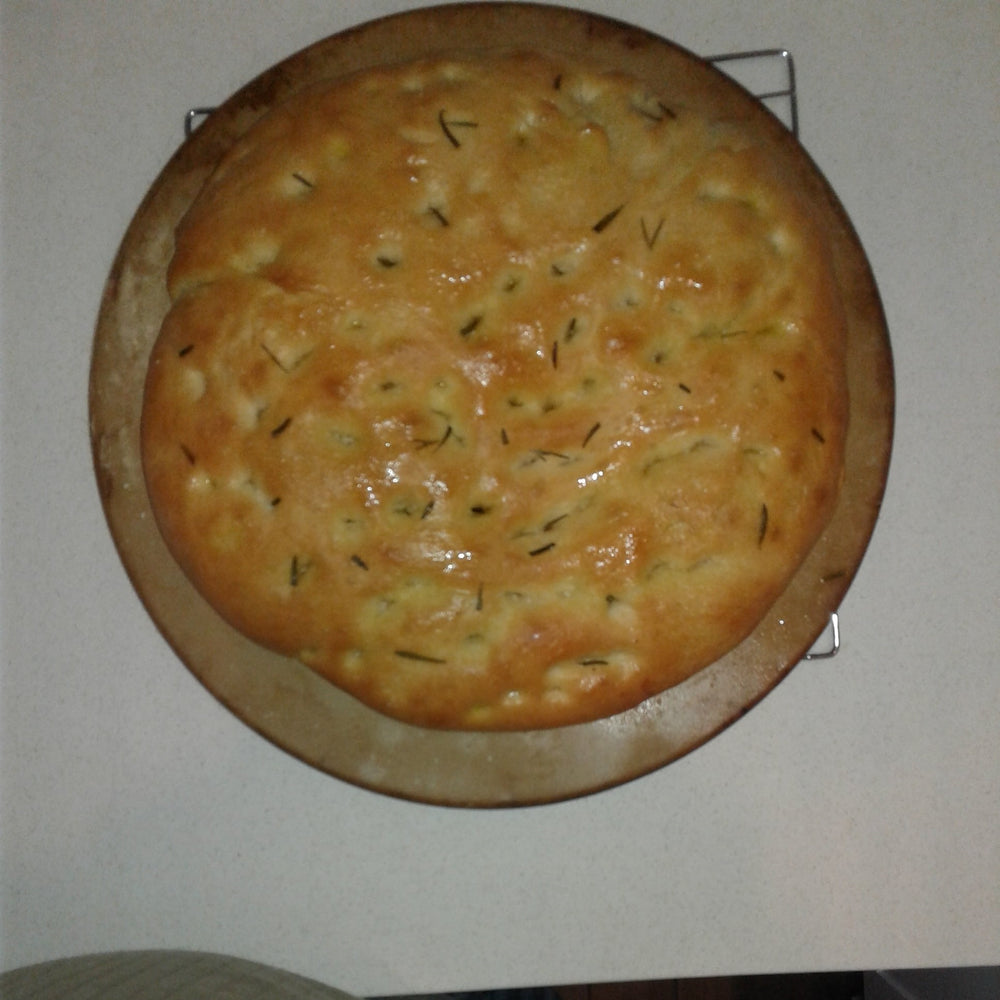 Isolation, it seems, is new to most people, but I rather like it. Maybe it's because I am autistic, perhaps it is because I just prefer my own thoughts and company to that of others. But nothing is more real to me, than being alone in my space and in my head with time on my hands and the ability to do whatever I want, whenever I want. Rather much like an errant two year old, I imagine, but there it is. I digress, I'm not here to write about errant two year olds, I am here to write about giving you a fun project to do while you're cooped up wating for ol' Covid-19 to take a hike and stop trying to kill us all. Discussing what to do, one of my friends on Twitter, @Scribulatora, tweeted about focaccia bread. Not just any focaccia bread, but DECORATED FOCACCIA bread! So, here we were tweeting about these beautiful flat breads, because both Scrib and I are simple bakers, (Scrib may be better than I, I cannot say, we've never baked in the same room). The conversation went on, a suggestion to make some was made. Then a competition was suggested and here I am researching the history of Genovian flat bread -- FOR FUN! The fun part is in my mission statement, so I'm all in. I took a day to research the history behind the bread and how it came to be, and here is what I learned... You'd likely not think something so simple, with only five basic ingredients could be even remotely interesting. But it truly is. And, any simple baker who is bored with time on their hands might find this little flatbread even more interesting. Originally, Focaccia is considered Italian, Genovian according to most of the research I read, although, it seems also to have originated with the Etruscans or Ancient Greeks. Either way, it is (for the most part) a yeasted flat bread which is baked essentially everywhere around the shores of the mediterranean since ancient times. The earliest versions would have been baked on the hearth of an open fire, on a tile or a baking stone or in an earthenware baking dish.
Click here if you would like to read a history of focaccia bread
, this was a very interesting blog that makes me want to visit Maryland for their crabcakes. It seems that regardless of whose recipe I found or who bakes it, the most important ingredient is the extra-virgin olive oil. If you don't know a good local olive oil supplier, my IRL friend Josée Nadeau owns
a little business called Sous les Oliviers here in Vaudreuil-Dorion, Québec
and she offers a variety of gorgeous olive oils. Most of the focaccia recipes I've read have the bread dough literally soaked in olive oil. It is how the bread holds its moisture, apparently. The Italian focaccia and indeed the decorated ones stem from their association with Christmas and the Epiphany. In Italy, they will add eggs, honey, anise and sugar, for a sweet bread and it will be rich with lemon or orange peel. If I were going to make a sweet one, I might use candied fruit peels or cherries, Essentially, here is the challenge. You're to gather together the ingredients and decorative elements you'd like -- or have readily available. Make the bread, decorate it and bake it, then return to Twitter, and post your Remember the challenge is for those of us in isolation, so it's okay to be weidly creative here). I have provided four different focaccia recipes. I will use the Peppermaster's recipe because he was actually the one to teach me to enjoy baking bread.
Click on this link for Greg's recipe.
He says he normally keeps a jar of sourdough starter in the fridge and would be using that, but this recipe uses yeast. Scribulatora's bread will be made using this recipe. It was recommended to her by a friend.
https://www.inspiredtaste.net/19313/easy-focaccia-bread-recipe-with-herbs/
Another tweeter, @Gerard95243180 offered up the lede photo of a beautiful focaccia that he had made and he was so generous as to offer his own recipe for the challenge, so here it is. ========================= Gerard's Rosemary Focaccia Serves 8-12 Produce: 2 sprigs Rosemary, fresh Condiment: 2 tsp Sugar or honey Baking & Spices: 1 (0.25 ounce) package Active-dry yeast 3 1/2 cups All purpose flour 2 tsp Sea salt, flaky Oils & Vinegars 1/4 cup Olive oil, extra virgin Liquids 1 1/3 cup Water ===================== @MeaganBilodeau offered us this sourdough starter recipe for those of you who have no access to yeast but would like to participate.
That recipe can be found by clicking here
: Or you can use this one:
https://homesteadandchill.com/make-your-own-sourdough-starter/
I found it while doing my research and who doesn't have a couple of tired old apples hiding in the bottom of their fridge? Essentially, you simply replace the yeast in your chosen recipe with the sourdough starter. For the gluten-free folk, and I know you are a multitude, here is my friend Cathy's recipe, made with
Wheatless Wonder gluten-free flour, better known as Merveilles sans Gluten in the Vaudreuil Area
. It's a locally made flour substitute. And if you're a bread eater, you won't be able to tell it's not a wheat bread. As I was grabbing the link to purchase the flour, I discovered they have their own recipe online:
Click here to read Wheatless wonder's focaccia recipe.
======================= Cathy's Gluten Free Focaccia 3¼ cups Merveilles sans Gluten Italian flour blend 1 tbsp plus 1 tsp sugar 2 tsp salt 2 tsp instant yeast 2½ cups milk 4 tbsp butter, melted ¼ cup extra virgin olive oil Add the bread flour, sugar, salt, and yeast to a large bowl. Quickly combine them. Using an electric mixer, turn on low and slowly beat in the milk and butter. Increase speed to medium and beat for 5 minutes. Cover the bowl with plastic wrap and place in a warm place. It should double in volume in about 2 hours. You can use it immediately after rising, or refrigerate the dough for a week. Use some of the olive oil to grease the pan. This recipe is designed for a cast iron skillet, but you can use any flat bottomed baking pan. Put half the dough on top into the pan and sprinkle about 2-3 tbsp more on top of the dough. Using your fingers, dimple the dough and gently spread it to the sides of the skillet/pan. Cover it and let it proof this time for about a 1/2 an hour. Preheat oven to 400 degrees. Once the dough has risen, you can decorate it, and bake for about 25-30 minutes, or until golden brown. ================ For this challenge, you're going to make your bread following the directions and then decorate it. You can choose any and all of the following ingredients, work with whatever you have on hand or come up with surprises of your own! Make this fun and creative! Sprigs of decorative herbs; thyme, rosemary, green onions, chives Leafy herbs; parsley, dill, sage, cilantro, etc. sliced mini bell pepprs slivered vegetables; celery, carrot slivered or whole green beans slivered or whole asparagus Tomatoes sliced chilli peppers rings or slivers, lengthwise slices sweet peppers, rings, long slivers onions; yellow, purple, shallots, pearl onions, sliced thin black olives, green olives sliced in rings or lengthwise slivered garlic cucumbers, zucchini, thinly sliced cheeses, any cheese you can imagine can be used. capers and other interesting decorative edible flowers sliced meats; ham, pepperoni, salami, etc. fish or seafood: anchovies, sardines, shrimp nuts and seeds; pine nuts, pumpkin seeds, sunflower seeds.
Click on this link to get some spectacular ideas about how to decorate the bread on this pinterest search that shows off decorated focaccia.
Lay out your "work of art" on the unbaked focaccia, and bake per the baking directions of the recipe you chose. You'll want everything to remain relatively thin on the surface of the bread, and wetter ingredients like olives or tomatoes, you can tamp on a paper towel to keep their moisture from permeating the bread. Once baked, sprinkle the savoury focaccia with any or all of the following: Gros grain salt 2 tbsp freshly grated Parmigiano Reggiano cracked black pepper to taste Hot pepper flakes or peppered oil And remember, please, BEFORE you cut and eat the bread, snap a picture and post it to the tweet I will pinned post to my Twitter as soon as my bread is ready. You can submit your photo as soon as I tweet or any time after that, whenever your bread is ready. I invite you to use your own flatbread recipe, if you have one, I know I have several friends who make superlative naans. Their recipe can readily be used for this project, as can a corn bread or even a flat sweetbread or shortcake if you want your decorations to run to the sweet rather than the savoury.
You'll find the image by clicking on my twitter profile once we post it.
Greg and I will be doing our baking on Saturday. We encourage you to gather your ingredients and show us your best focaccia! Have fun and happy baking!