We're committed to the Comité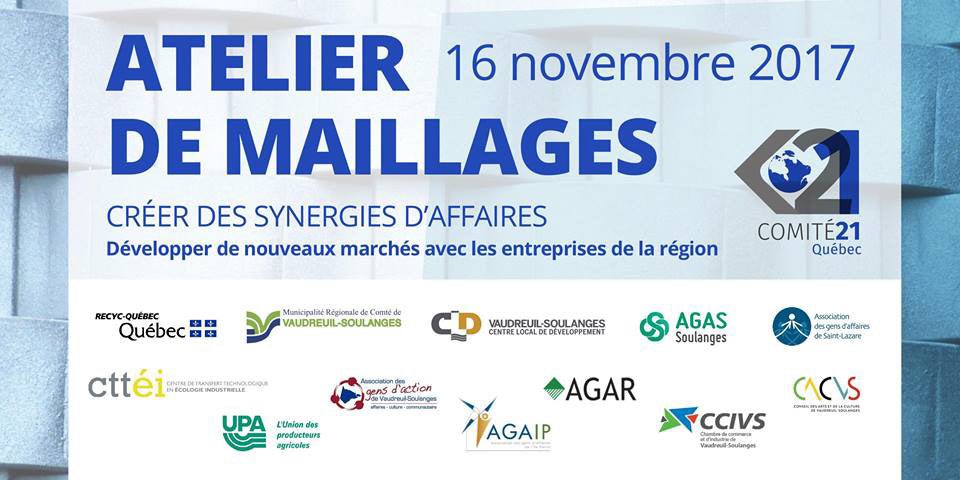 For immediate release
Brooks Pepperfire Foods (BPFI) is proud to announce that we have joined the
Vaudreuil-Soulanges 21 Regional Committee
. We look forward to attending their
Mesh Workshop on November 16th
. This project aims to create new business strategies and develop new markets with companies in the region. BPFI's mission is to save the planet. Make good food, not contaminated by toxic chemicals, follow ethical business practices, and take care not to desecrate the Earth. BPFI is excited by the results achieved by Comite 21 so far. We are very happy to work with them in their important work. A practice of Comité 21 that impresses us at BPFI, is that they verify the type and volume of waste from each company and then coordinates the shipment of undesirable surplus from one company to another with a corresponding need. Companies save on transportation and disposal costs, the local community benefits from reduced landfill, and the relationships forged in the process strengthen the business community.
Other benefits
Through auditing and structured sharing of members' resources and capabilities, the Comité 21 has created a number of benefits for associated businesses and the community as a whole. The first 28 members cohort that launched the local Comité generated about 350k in new potential local business through facilitated collaboration. How these benefits evolve will depend on what community members feel is needed to succeed. Through shared resources and ideas, stimulated collaboration, and improved business by doing good for the world, there is no limit to the benefits we can derive from it. Communities, Innovation, Partnership, Integrity are the principles of Committee 21. BPFI looks forward to developing partnerships based on integrity, to develop innovative approaches to serve the community by becoming a member of Committee 21. We are planning great things arising from the workshop on 16 November. _______________________________________
Pour diffusion immédiate
Brooks Pepperfire Foods (BPFI) est fière d'annoncer que nous avons rejoint le
Comité 21 régional de Vaudreuil-Soulanges
. Nous sommes impatients d'assister à leur
Atelier de maillages qui aura lieu le16 novembre
. Ce projet vise à créer de nouvelles stratégies commerciales et à développer de nouveaux marchés avec les entreprises de la région. La mission de BPFI est de sauver la planète. Faire de la bonne nourriture, non contaminée par des produits chimiques toxiques, suivre des pratiques commerciales éthiques, et prendre soin de ne pas profaner la Terre. BPFI est enthousiasmée par les résultats obtenus par Comite 21 à ce jour. Nous sommes très heureux de collaborer avec eux dans leur important travail. Les pratiques et les conseils du Comité 21 nous impressionne chez BPFI, Le Comité 21 vérifie le type et le volume de déchets de chaque entreprise, puis participe à la coordination de l'envoi du surplus indésirable d'une entreprise à un autre avec un besoin correspondant. Les entreprises économisent sur les coûts de transport et d'élimination, la communauté locale profite de la réduction de la mise en décharge, et les relations forgées dans le processus renforcent le milieu des affaires. Autres avantages Grâce à l'audit et au partage structuré des ressources et des capacités des membres,le Comité 21 a créé plusieurs avantages pour les entreprises associées et pour la communauté dans son ensemble. La participation et la collaboration des 28 premiers membres de la cohorte du Comité 21 ont permis d'identifier près de 350 000 $ en opportunités d'affaires locales. La façon dont ces avantages évoluent dépendra de ce que les membres de la communauté estiment nécessaire pour réussir. Grâce à des ressources et des idées partagées, à une collaboration stimulée et à l'amélioration des activités en faisant du bien au monde, il n'y a pas de limites aux avantages que nous pouvons en tirer. Communautés, Innovation, Partenariat, Intégrité sont les principes du Comite 21. BPFI attend avec impatience de développer des partenariats basés sur l'intégrité, afin de développer des approches innovantes pour servir la communauté en devenant membre de Comite 21. Nous prévoyons de grandes choses découlant de l'atelier du 16 novembre.