Scorpion Chocolates - The World's Hottest Chocolate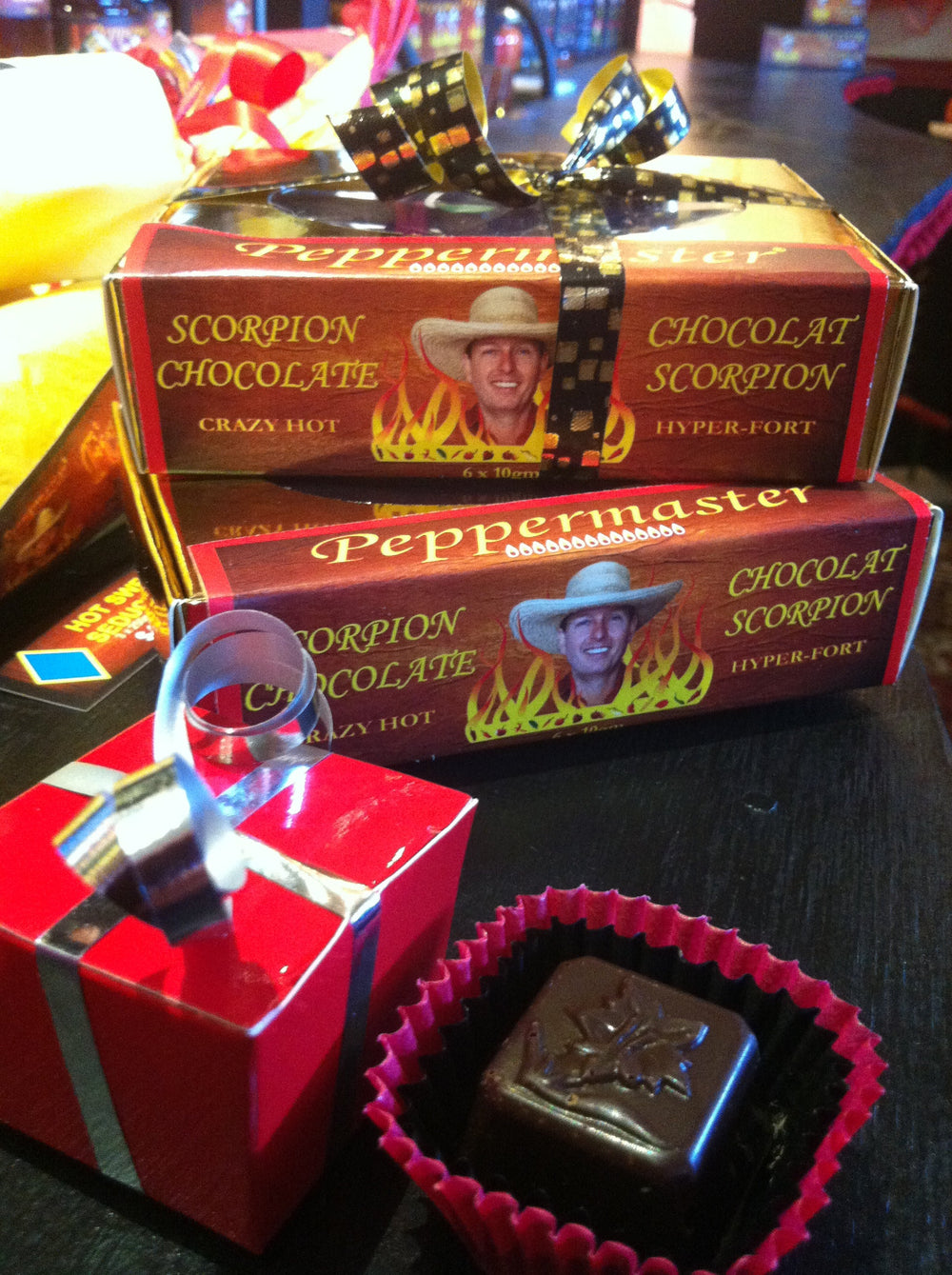 If you tried last year's Molten Magma chocolates, you know how delicious these little chocolate confections are. What you may not be prepared for is how hot the centers are! A thick fair trade certified organic dark (72%) chocolate coats a soft center of delectable sweet heat that rises up so fast you'll be shocked at how seriously hot it will get! Capable of causing immense pain on the tongues of the more delicate of our customers, those of you in love with the hottest heat are going to go out of your minds! These little beauties are for you! [caption id="attachment_2999" align="aligncenter" width="224"]
Peppermaster Scorpion Chocolates[/caption] Adopting the nickname "Crazy Hot" from our
Haitian Fire line,
was wise. There is no doubt these chocolates are going to be way too hot for the vast majority of the population. Yet again our chocolatiere, Nicole Desormiers owner of Maison des Bonbons has gone to the extreme in putting these lovely little delicacies together with us. You'll love them -- if you can handle the heat. If you can't handle this heat. We won't be insulted. In fact, we laugh at your pain. :) Scorpion chocolates are not for the faint of heart, but they are made with a conscience. True to form, Brooks Pepperfire Foods has made these Peppermaster brand chocolates with Fair Trade certified organic ingredients. The most notable ingredients include the Guinness Book of World's Record holding, Butch T Scorpion pepper and
organic Yakima Naga peppers
grown from the seed of the famous
Dorset Naga.
The current price for 6 of chocolates is $17.78 +tax ($20 CAD) but, because we're on limited supply you'll want to get 'em quickly!
You can order yours now by clicking here!
Quantities are limited!