Tina Brooks, Food Terrorist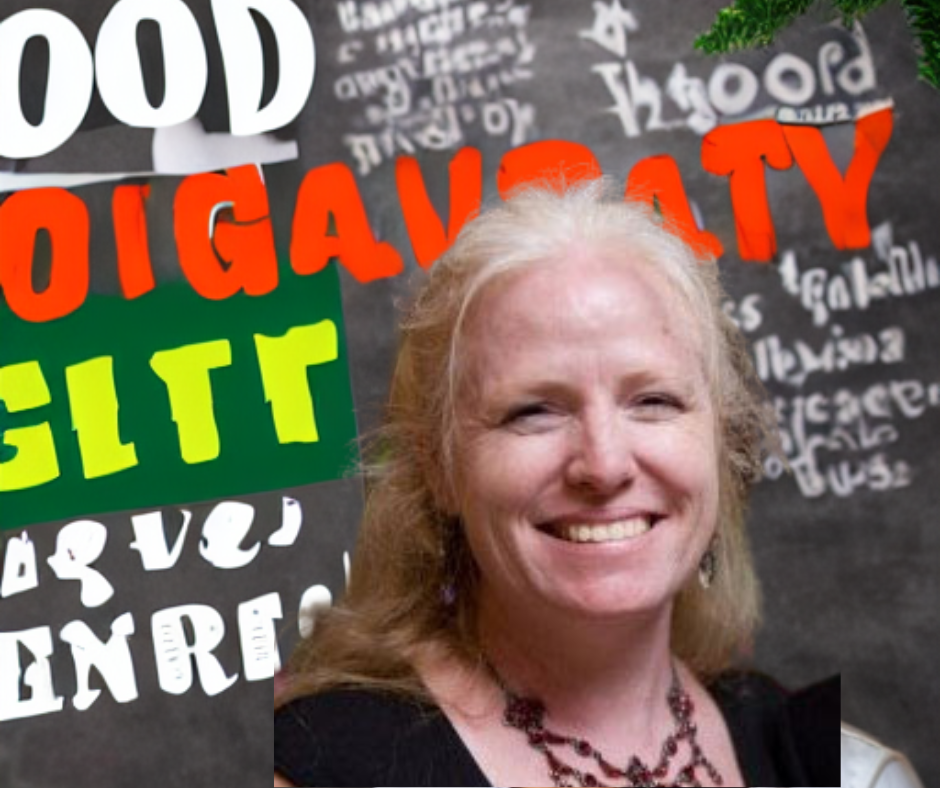 Tina Brooks, Food Terrorist
So, it happened. I was called a food terrorist. I was rather amused by it as I was chastising a friend for being part of the problem with the Canadian food chain as I noticed that the inside of her fridge made her look like a poster child for instantaneous planetary destruction! Nevermind the destruction of her intestines. Okay, she was joking, I wasn't, not really.
For real, though. Calling me a food terrorist is kinda legit if you think about it, I mean Greg and I were all about real local food and the sustainability of our food supply since before it was even really a thing. We aren't afraid to point out the inequity in the food chain. I have called out Galen G. Weston regularly and will until he changes the behaviours of his companies. We have seen at close hand the desperation that people in the poorest nations live with on a daily basis. We have also seen how fair and free trade with such places improves the lives and situations of the folks who live there. So, there is no doubt in our minds that standing up and fighting for fairly traded and local food protections need to be established everywhere, because, to date, the largest conventional food suppliers are not helping do any of these things, to my eye. They hold the reins to the quickest solution to the largest portion of solutions to the problems that currently plague the food chain.
Click here if you missed that blog: Food Fraud, Record Profits, and Bread Scandals Abound.
Real Food and Fair Trade
When we launched our company, we were in the unfortunate position of having to import 100% of our primary materials; citrus fruit, primarily limes, and chilli peppers. At the time, we were actively looking to supply our ingredient requirements as locally as possible because Greg, as a brilliant chef, knows that the closer to the plant the food is processed the riper, fresher, and, by far, better tasting, the finished dish will be. His experience operating an International cuisine restaurant in the middle of nowhere all those decades ago has paid off for us. Our actions, in spite of not being entirely altruistic, have been about supplying ourselves and our company and paving a situation where we were not reliant on imports or big food to supply our products.
We were given a mandate to create the market for fair trade chilli peppers and successfully managed to see several Canadian companies bring this produce to market. At the time we were importing approximately 1000 pounds of peppers per year.
We currently use approximately 8000-10,000 pounds of varietal chilli peppers per year, all grown locally by either organic dirt farmers or in all-natural greenhouses, and we have maintained our contracts with overseas suppliers to continue to support their progress.
This year we used nearly 20000 pounds of imported citrus fruit. We are anticipating a time in the future when citrus might be grown locally, likely in greenhouse environments sustainably heated. We currently juice our own citrus, grate a large amount of zest and citrus oils for our products, so, we are actively pursuing a processing project that will see us extract the zest and oils from our extra citrus peels into secondary usage as we do for our own products, rather than discard the peels. In a perfect world we would see ourselves extracting the oils, zesting, and juicing the fruit within easy reach of the citrus orchards in which they are grown, creating local opportunities for the citrus suppliers in developing nations.
With the climate crisis (literally) crashing against the shores of my beloved Newfoundland, and Greg's childhood island home of the Bahamas, reminds us how important what we are doing truly is, in spite of sometimes feeling that we are swimming against the tide.
We have been accused of disrupting local economic realities by paying farmers in developing countries, prices equivalent to those being paid to local Canadian farmers. We continue to finance a Haitian pepper farmer in spite of several physical setbacks over the years that cause the poorest dirt farmers in the world, to sell their produce for less than it cost to grow. Working with both Fair Trade and Organic organizations, producers and suppliers gives us an edge over other multi-product producers in that our clients work with us to ensure that the real food ingredients we use to make their products, are clean, local, and sustainable, and they come with the knowledge that we are doing everything we can to help farmers wherever they are succeed in growing and processing sustainably. Click here to read the Media release that was issued in 2007 when we first began importing the goatpeppers.
Slow Fair Trade;
Local & Organic Fair Trade, Worldwide.
In essence, in our short 20 years in existence we have succeeded in forcing over 20 producers to provide us with over 30,000 lbs per year in produce that is either local or as minimally offensive to the planet as is possible.
Committed to the idea of saving the planet while feeding ourselves the highest quality food that can be grown has created a company that from inception has been committed to the ideas of sustainability. Growing up as we did, we are far too cognizant of what is needed to save the planet. Our goal is to leave as little damage to the planet as we can, while encouraging our clients and providers to convert and indeed, to commit to these same ideas, wherever they are!
After the Haitian Earthquake, we updated our Pepperfire Initiative to include establishing organic farming and food production locally to reestablish solidity and stability to the country. The document was adopted by GRAHN-Monde, a diaspora group committed to rebuilding Haiti. If you are interested, you can click here to download: Read the Pepperfire Initiative. It is our goal to see a food hub established in every geographical location the world over, that will help eliminate food poverty and insecurity the world over. Ideally this white paper is able to be used by any country, with little tweaking, to create a world of sustainable food manufacturing.
Sustainability & UNSDGs
We continue expanding our network of farmers and local producers and together have established a local organic farmers cooperative, that supplies us with tomatoes, garlic and onions. And we have worked with a local Multi-service Cooperative, the CooP CSUR, to help establish a local online and bricks and mortar grocery called the Marché Écolocal. It focuses on local and organic products, with the goal of helping establish food security for those seeking an assured access to clean, locally grown and produced groceries. The market services well over 500 families, delivering fresh locally grown and organic groceries, all over the county.
We compost, reduce, reuse, and recycle wherever possible and work with several recouperation groups, most notably Comité 21 Québec, and as a result of these activities have successfully participated in seeing well over 100 Garbage trucksful of trash eliminated from landfill and turned into useful and sustainable projects.
We wrote our own UN Sustainability Goals, when they were released in 2-2015 because we are people committed to the idea of saving the planet. Our goal has always been to feed ourselves with the highest quality food that can be grown and as a result we created our company with those ideals from inception. For us sustainability has always been about doing as little damage to the planet as we can, while encouraging our clients and providers to convert and indeed to commit to these same ideas of working to create the greenest, most equitable planet we can. Gene Roddenberry would be proud.
You can read about the UN SDGs, as well as see our own SDGs by clicking on this graphic:
 If you've read this far into the document then you will be aware that we are not the sort to sit idly by when we discover things that need to be fixed in the food chain. Tina has a habit of standing up in the seats of our Government, even, calling out the Municipal Government asking them to commit to the existence of the local farmers market, required for the planned local food hub. Followed more recently by calling out the Federal Government over their continued use of Glyphosates and their surfactants.
We are not sure what Tina is going to do next, but if you are in food manufacturing, then you better watch your labels, because we are coming for you!
Our latest project hasn't even been launched yet, as it is still in Beta testing! Project Cluo, is a smart phone app designed for the food conscious consumer. It allows you to point your smart phone at a food product label and decipher the meaning of the marks on the product's label. This app threatens to revolutionize how people with dietary restrictions and controls shop. Click here to read more about Project Cluo! Expect a Media release to come out soon! I am so excited to be involved in this project!
We continue to look for new ways to advance the projects that will add to the original Pepperfire Initiative and look forward to expanding them to include local food hubs, everywhere. There is nothing more important in my mind, the world over, especially with the climate crisis as it is, than the journey to create planetary food security. So, like a journey of 1,000 miles that always begins with the first step. We invite you to take a walk with us.
Tina Brooks, Food Terrorist