Brooks Pepperfire Foods Announces Release of Zee Grub bbq Sauce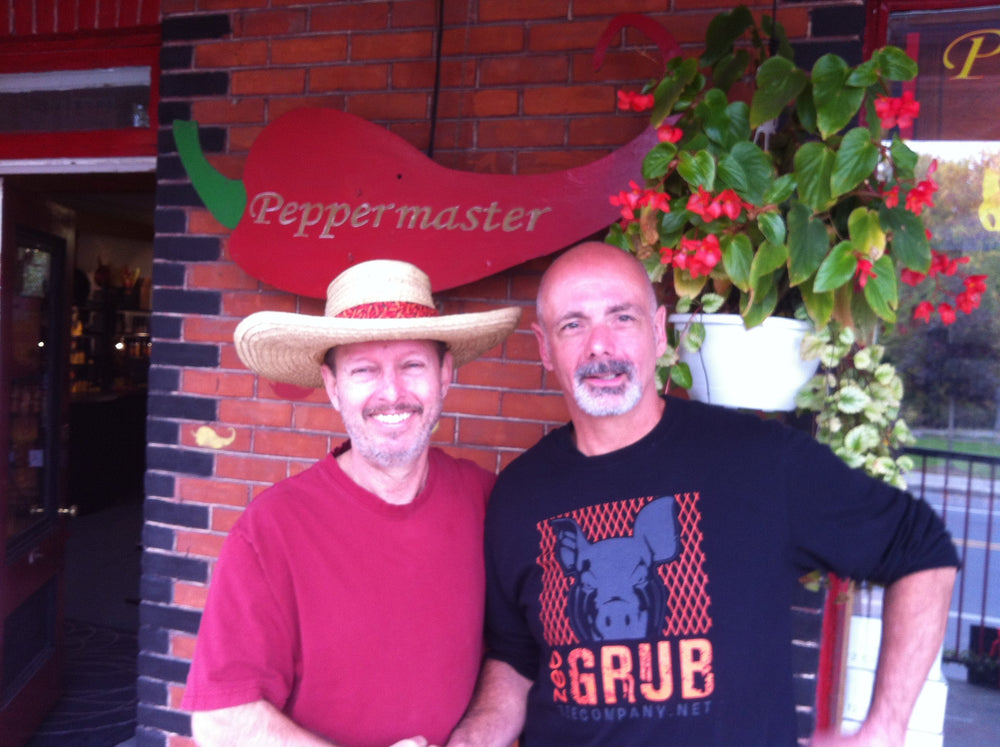 Announcing the commercial release of Zee Grub's award winning BBQ Sauce to be manufactured by Commercial specialty small-batch co-packer, Brooks Pepperfire Foods of Rigaud Quebec.
For Release October 12, 2013, 10:00:00 am est.
Vaudreuil-Dorion, Quebec, October 12, 2013: Making a name for himself on the Montreal Rock Scene using a giant barbecue-smoker. Catering parties and rock concerts, as well as local outdoor markets in Hudson and Ste. Lazar, Zee Grub found enormous demand to sell their products to local shops. Seeking a specialist to co-pack their recipe, Phillips found Brooks Pepperfire Foods, best known for manufacturing the Peppermaster and Sexy Salsa brands and began the long process of turning his homemade barbecue recipe into the quality formula required to present the same healthy, great tasting product safely to food stores.
Zee's original recipe is remarkably identical to the original recipe although the ingredients have been altered to suit the manufacturer's corporate philosophy of Slow Fair Trade.
Brooks Pepperfire Foods' commercial co-pack customers benefit from a stringent control over quality and sourcing of their ingredients. Focusing on a sustainable process that brings the best quality food to consumers. They use a farm to fork process that requires going as direct to the farmer as possible. As such, a large majority of their ingredients are sourced directly, and when it is impossible to go direct themselves, they've used Fair Trade certifying organizations to do the work for them.
Says Tina Brooks, VP Marketing of Brooks Pepperfire Foods , "Often when a company like Zee Grub wants to commercially market their product, they are required to ramp it up to mass marketing status. This requires sourcing the cheapest ingredients, and more often that not, those ingredients are the very things that are destroying our planet and our health. At BPFI we believe that sourcing direct and employing local farmers contractually, provides income and stable buyers for their product that allows the smallest of farmers the ability to enter into larger local markets themselves. It's a sustainability ploy that forces our suppliers to grow organically. Using the tool of our commercial customers such as Peppermaster, and Sexy Salsa, we've been able to position ourselves so that we can bring companies like Zee Grub into play, expanding our purchasing dollars directly into local markets in some of the poorest countries and we are effecting positive change, both for them and for the planet."
Greg Brooks, Peppermaster at Brooks Pepperfire Foods said that it was fun adapting Zee's product to today's customer's preferences. When things like high fructose corn syrup found in ketchup are removed from a recipe, and replaced with a fairly-traded organic tapioca syrup, all the flavours become crisper and the consumer receives a product that has all gluten, corn and genetically modified ingredients removed making it a delicious entry to your pantry. A product that a family can proudly serve.
=================================
Montreal Chef Michael Phillips, Pitmaster for Zee Grub trained in Kansas City by Canadian born chef and 7 time World Barbecue champion, Paul Kirk. Michael drew on Kirk's 35 years of championship BBQ experience to design and custom build his 22 foot long smoker rig and introduced Montreal to Zee's smoky flavours.
Zee Grub is a commercial caterer and can be hired for private and public events. Zee has catered Osheaga, HeavyMTL, Vans Warped Tour as well as U2 and appears regularly at local farmer's markets around Montreal.
=================================
Brooks Pepperfire Foods is a rapidly growing specialty small-batch co-packer in Rigaud Quebec. Since 2004, manufacturing the Peppermaster's own personal brand and growing to commercially co-packing exclusively for a dozen different Canadian companies. Brooks Pepperfire Foods specializes in creating products for the grocery and specialty food markets on behalf of both product owners and restaurants, as well. Using a slow fair trade sourced ingredient methodology, Brooks Pepperfire Foods counters their environmental and social impact by going direct to their suppliers and contracting them to grow their ingredients using sustainable growing methods as well as social responsibility.
Brooks Pepperfire Foods is well-known through the Peppermaster brand, available at their shop in Rigaud, not only as a producer of local all-natural food products, but nationally at Juried Craft Fairs from Vancouver to Halifax as the life's work of artisanal Peppermaster Greg Brooks.
Brooks Pepperfire Foods prides itself on its history of working directly with farmers to help ensure the food security of their own neighbourhoods.
=================================
Greg Brooks is co-owner of Brooks Pepperfire Foods, a Peppermaster by trade. Greg is a chef with 42 years experience he brings an extraordinary talent to the world of Commercially packaged food products through his company.
=================================
Tina Brooks is the co-owner of Brooks Pepperfire Foods and is head of marketing and Social Media Marketing for the company.
=================================
For more information:
On Zee Grub or Michael Phillips contact:
Michael Phillips, Zee Grub, Vaudreuil-Dorion, Quebec
(514) 576-0451
info@zeecompany.net
On Brooks Pepperfire Food, Greg Brooks or Tina Brooks contact:
Tina Brooks, Brooks Pepperfire Foods, Rigaud, Quebec
(514) 393-3430
tbrooks@peppermaster.com